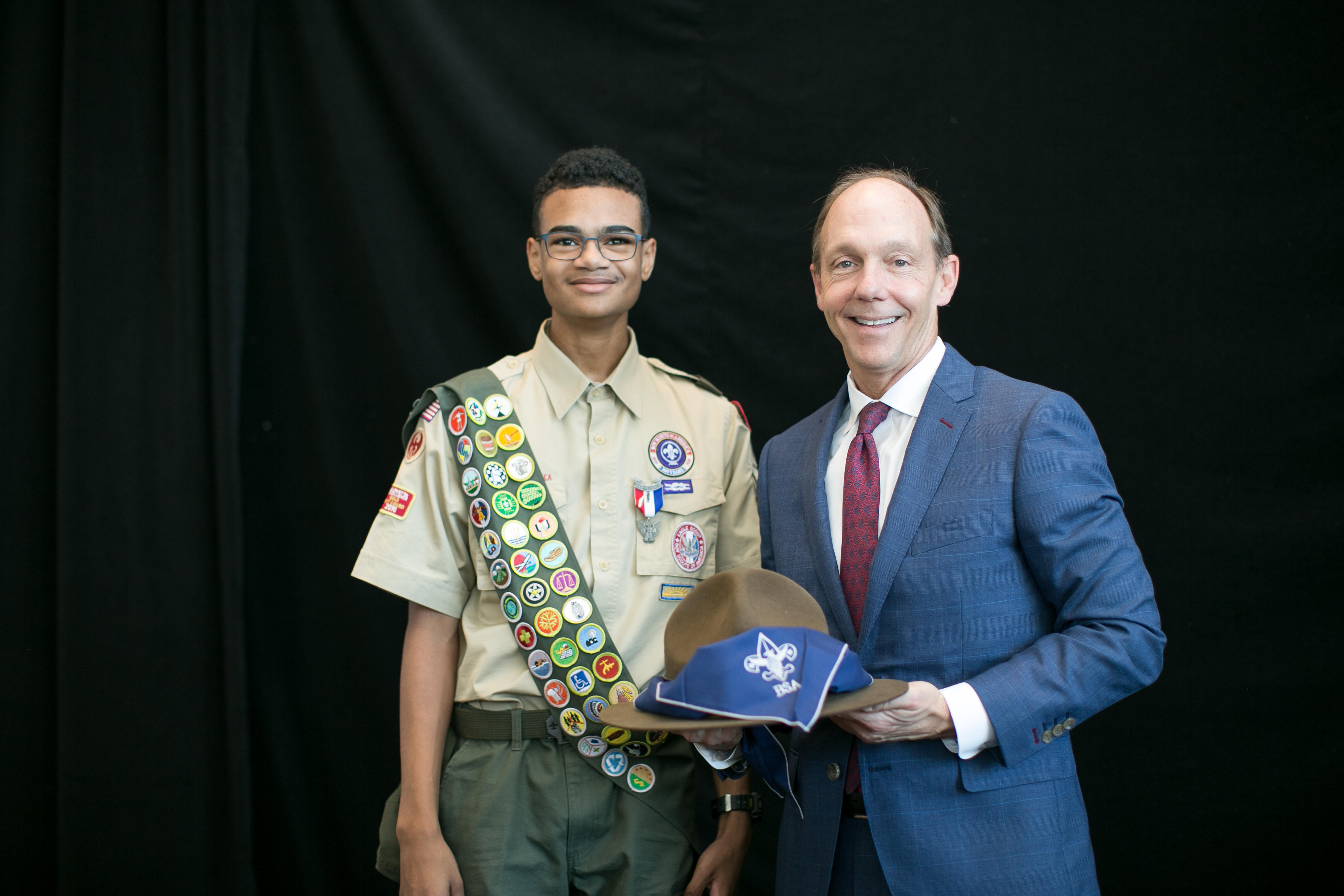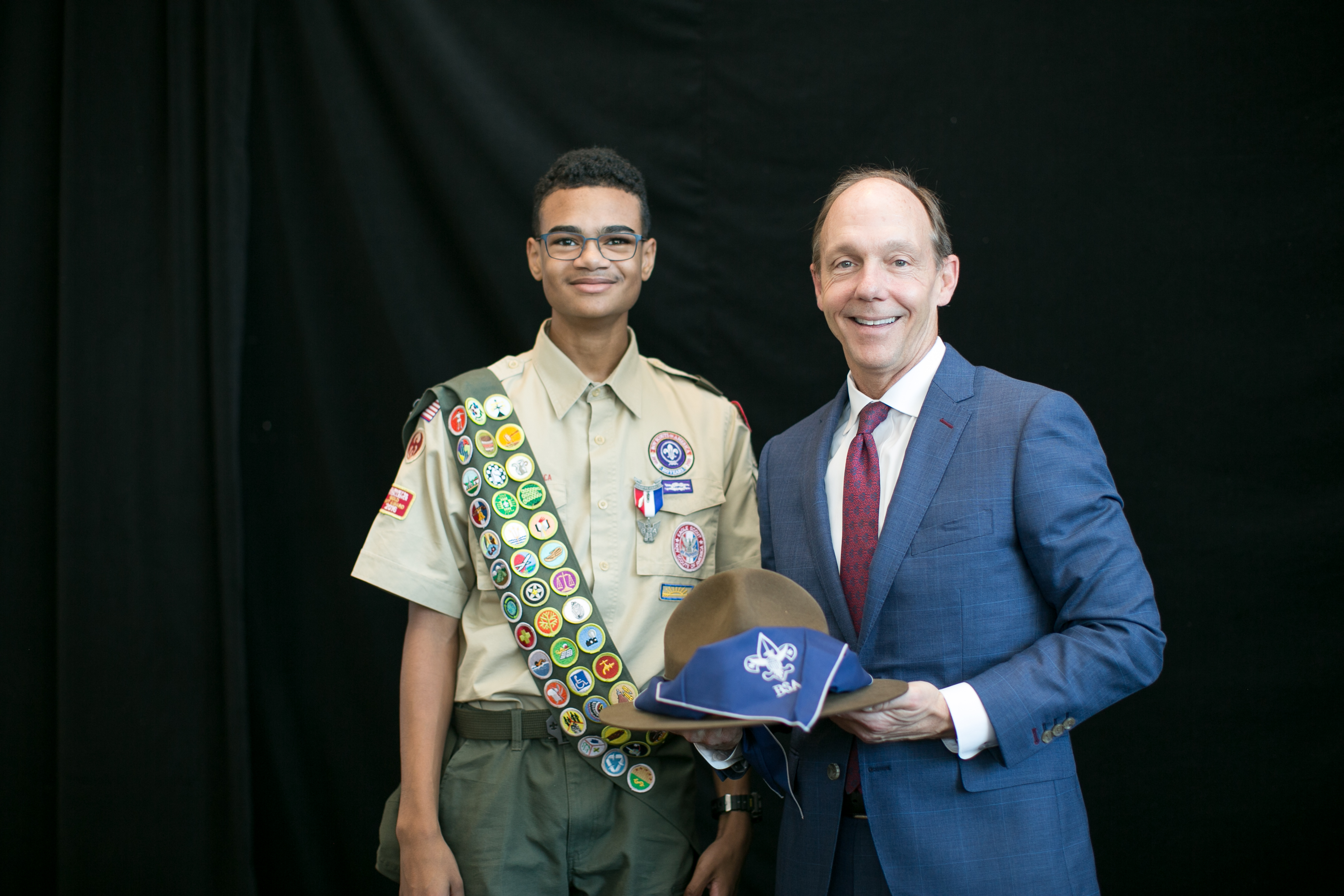 OCTOBER 1, 2017 – BETHESDA, MD:  Each year the National Capital Area Council, Boy Scouts of America hosts an event called Character Under Construction, a networking event for the real estate and construction industry, at which we honor one or more persons or companies in the industry. This year, with the support of PN Hoffman and Madison Marquette, instead of honoring a person or company, we are honoring the Wharf project.
This exciting event will be a luncheon on Thursday, November 2, 2017, on site at the InterContinental Washington D.C. – The Wharf, providing a first glimpse for many of us of the soon-to-be-opened waterfront destination. The highlight will be a keynote address by Monty Hoffman, CEO PN Hoffman and Amer Hammour, CEO Madison Marquette, sharing with us the vision that started it all.
"The Good Scout award honors individuals for exemplifying the ideals of the Scout Oath and Law. However, the scope and impact of the Wharf offers such outstanding promise for the community that we decided to honor the project as a whole" says Bob Fox, Principal at FOX Architects and Co-Chair of the event.
Monty and Amer's contributions to the development of the Wharf have enabled the continued revival of an historic and storied waterfront and furthered a vision of DC as not just a political capital, but also a maritime center. Within this mile-long neighborhood of shops, restaurants, and residences, you'll find a dozen different corners, each distinct from one another and reflective of the eclectic vibrancy of the surrounding city. In addition, the Wharf will offer the region expanded access and a greater connection to the leisure—and even transportation opportunities—of the Potomac River.
"What the Wharf represents to Scouts is the kind of vision and community leadership the program teaches," says Diane Shapiro Richer, Shareholder at Polsinelli and Co-Chair of the event. "They are literally building a new community and making the area we serve a better place to live."
Thanks to generous support from the community, in 2016 National Capital Area Council served 58,804 young men and women through the dedication of 19,912 adult volunteers. The prestigious Eagle Scout award was earned by 1,519 young men who led their fellow Scouts in performing more than 500,000 hours of community service, including collecting over a million pounds of food in Scouting for Food, their annual holiday food drive.
To purchase tickets or learn about sponsorship opportunities at the event, please contact Jenna Welle (Jenna.Welle@Scouting.org, 301-214-9151) or visit www.NCACBSA.org/CUC for more information.
About Boy Scouts of America & National Capital Area Council
Boy Scouts of America provides the nation's foremost youth program of character development and values-based leadership training, which helps young people be Prepared. For Life.™ The Scouting organization is composed of 2.6 million youth members between the ages of 7 and 21 and more than a million volunteers in local councils throughout the United States and its territories. For more, please visit www.Scouting.org.
National Capital Area Council was organized in 1911 and today stands as one of the oldest and largest councils in America. The Council territory includes the District of Columbia; Frederick, Montgomery, Prince George's, Calvert, Charles, and St. Mary's counties in Maryland; and in Virginia the counties of Arlington, Fairfax, Prince William, Loudoun, Fauquier, Spotsylvania, Caroline, King George, Stafford and Culpeper as well as the independent cities of Alexandria, Falls Church, Fairfax, Manassas, Manassas Park and Fredericksburg. For more information, please visit www.NCACBSA.org.