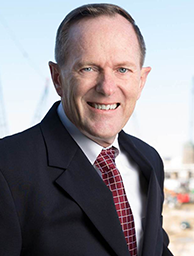 Gary Ball is Director of Construction for Real Estate Services at Madison Marquette. His primary focus is on the Wharf project Phase I, a $1.2 billion mixed-use project and planning of the Wharf Phase II. His work also includes One Light Street, a 28 story mixed-use tower in downtown Baltimore, and Empire Outlets on Staten Island, New York.
Mr. Ball joined Madison Marquette in January 2016, with more than 30 years of construction experience in the Mid-Atlantic region. He has worked on large commercial projects such as Potomac Yards Landbay A and B, Federal projects such as the ATF headquarters and full building interior fit-ups for the American Red Cross, NRTC, ACLI and Residential/Hospitality projects such as IMF Concordia and Silo Point in Baltimore.
Prior to joining Madison Marquette, Mr. Ball worked with PN Hoffman as Senior Construction Manager overseeing the design and construction of the Wharf Phase I project built by Clark Construction, Cianbro Construction and Bellingham Marine. Prior to PN Hoffman, he worked with with Turner Construction and Davis Construction
Mr. Ball began his professional career as a US Army officer after graduating from Montana State University. He spent 6 years in the Corps of Engineers before joining Davis Construction in the DC Metro area. He is an active member of DCBIA, serving as a co-chair for the last 7 years of the Community Services Corp arm of DCBIA.