First Atlanta CommonGrounds Workplace location slated to open in early 2020
CARLSBAD, Calif., April 11, 2019 /PRNewswire/ -- CommonGrounds Workplace, an enterprise-grade Workplace-as-a-Service (WaaS) company collaborating with businesses of all sizes and office asset owners in multiple U.S. cities, has signed a 13-year lease for 49,506 square feet at 999 Peachtree Street Northeast in Atlanta.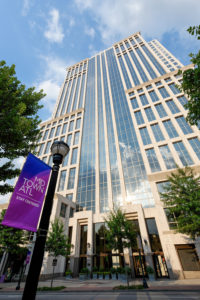 The lease at 999 Peachtree Street includes two full floors of the 28-story building, which is located in the Midtown Atlanta submarket. The Atlanta Peachtree CommonGrounds Workplace is scheduled to open in Q1 2020.
The lease represents the company's second collaboration with Franklin Street Properties. CommonGrounds signed a lease for 27,478 square feet at 801 Marquette Avenue South in Minneapolis in late 2018.
This is the first CommonGrounds Workplace lease to be signed in 2019 as part of the company's $100 million Series A funding expansion program. A Salt Lake City location opened in March 2019, joining four other U.S. locations currently open.
"999 Peachtree is perfectly located in Midtown Atlanta to meet the needs of enterprise companies that are expanding in Atlanta and looking to take advantage of our enterprise grade Workplace-as-a-Service and Headquarters-as-a-Service platforms," said Jacob Bates, Chief Executive Officer for CommonGrounds. "Atlanta is a growing market and continues to increasingly attract new companies. The city's job growth together with Georgia Tech University and nearby residential is very attractive for recruiting and retaining top talent."
Building amenities at 999 Peachtree include the popular Empire State South restaurant on the ground floor, The Peachtree Club and roof deck on the top floor, parking, views of the midtown Atlanta skyline, a modern fitness center, a communal green space and a prominent presence on Peachtree Street. An abundance of restaurants, full service and boutique hotels, world-class arts, and activated green spaces like Piedmont Park, are within walking distance.
"Our new CommonGrounds Workplace location in Atlanta will be able to fulfill the underserved and growing needs in Atlanta for corporate-focused Workplace-as-a-Service and Headquarters-as-a-Service," said Bates. "We provide solutions to companies of all sizes that are looking to scale their businesses by offering enterprise-grade and company branded environments including design options, technology, top-tier data security and our Invita barista enhances the worklife experience."
Other tenants in the building include AARP, Gensler, Akerman LLP, Ballard Spahr LLP, Meunier Carlin & Curfman LLC, Oxford Industries, and Eversheds Sutherland.
Charles "Chip" Roach, Jr., and Stephen B. Clifton with Madison Marquette represented the owner, Franklin Street Properties Corp. Jim Suber, Andrew Lechter and Matthew Barnes with Savills-Studley represented CommonGrounds in the negotiations.
About CommonGrounds Workplace
CommonGrounds Workplace is a Workplace-as-a-Service (WaaS) operator with flexible workplace products and services. The company's enterprise-grade, human-centric workplace typologies create highly productive and brandable environments for companies from start-ups to Fortune 1500 enterprises.
CommonGrounds currently has locations open in Denver, the greater Los Angeles area, Salt Lake City, San Diego and San Jose, with Portland and Minneapolis opening this May. To date, total leases and management agreements under contract comprise approximately 280,000 square feet.
CommonGrounds will expand its footprint to two million square feet across roughly 50 locations in the next 24 months. There are eight U.S. sites actively under construction slated to open in 2019, with another 35 U.S. locations under development in primary and secondary markets with openings scheduled for late 2019 and 2020.
Headquartered in San Diego, Calif., the privately held company completed its Series A funding in January 2019 totaling $100 million. CommonGrounds was established in 2015. For more information, please visit cgworkplace.com.
MEDIA CONTACT: 
Jeanne Hasenmiller
(602) 714-9338
[email protected]
SOURCE CommonGrounds Workplace