Updated 
With one-bedroom units starting at $1,643, the rent at Luminary at One Light might seem high to Baltimoreans.
But to two tenants living in the downtown skyscraper, the shiny new apartments come at a steal compared to back home on the West Coast.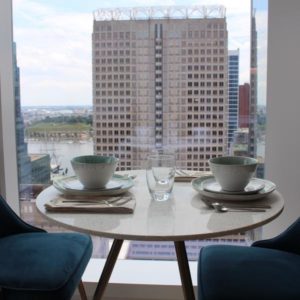 Lynn Jin and Evan Han, two graduate students studying computer science at Johns Hopkins University, moved into their new home Thursday and said they are getting more for their money in Baltimore compared to what they paid in Berkeley, California, just outside of San Francisco. There, Jin said she was spending $1,000 a month to live in a one-bedroom apartment that housed two tenants and therefore, two beds.
They rented their new apartment sight unseen, basing their decision off of the leasing photos online. They also looked at the residences at 414 Light Street and 10 Light Street, but settled on Luminary after reviewing its marketing images.
As Jin and Han moved into their new home, a celebration was taking place upstairs.
Developers, city officials and members of the business community were gathering for the grand opening of Luminary's rooftop amenity space. The glass-encased room includes plush seating areas around a marble fireplace, games like shuffleboard, an outdoor courtyard and of course, a pool overlooking downtown. It also includes a fitness center, spa and a dog park and washing area.
The rooftop amenity floor is the pièce de résistance of the 280-unit residential component of the 28-story skyscraper developed by Madison Marquette. The $170 million building opened its office portion, which is anchored by M&T Bank, in October. Residents began moving into the Bozzuto-managed Luminary in March.
Luxury apartments in the building start at $1,506 for a studio and $2,552 for a two-bedroom unit. Parking in the building's garage $195 monthly.
Speaking before a crowd of people and cameras, Madison Marquette chairman Amer Hammour said the One Light Street tower has been decades in the making.
What they ended up with was better than anything they could have built in past years, he added. As the first office tower to be built in Baltimore's central business district in over a decade, Hammour said the building is also "more impactful" than what they had previously imaged for the parcel.
Now that the residential portion has opened, Madison Marquette will turn its attention to the Thomas building at 101 E. Baltimore St. — the historic building next door that previously held a McDonald's and was incorporated into the design of the skyscraper.
Peter Cole, chief development and asset management officer for Madison Marquette, said they are currently looking for one or two tenants to commit to the space before they begin any work there. The building can be broken up into two smaller offices or combined for a larger 4,500-square-foot space, he said. Already it has caught the attention of several food and beverage companies, as well as a few banks. Despite M&T Bank occupying 155,000 square feet of One Light Street, Cole said other banks still want to be in the center of Baltimore's banking district.
Mayor Bernard C. "Jack" Young applauded the investment in the building and what it adds to the city's skyline, business community and downtown neighborhood.
"Baltimore is the engine of the state and downtown is the engine of Baltimore," he said. He also thanked Kirby Fowler, president of the Downtown Partnership, for his role in bringing the project to life.
Fowler spoke about the importance of activating the corner of Baltimore and Light streets, an area he said he has been worried about for over 10 years.
"Something important had to happen here and it did," he said.