Beehive installation at Crown Pointe office campus helps rebuild honeybee population
ATLANTA, GA, December 9, 2019 – Madison Marquette recently celebrated the grand opening of three newly installed honey bee hives at the Crown Pointe office campus. The firm provides leasing and property management services for the campus on behalf of owner Pacific Oak Capital.
"We are extremely excited to initiate our partnership with Bee Downtown as part of our ongoing commitment to sustainability," says Madison Marquette's Julie Motsinger, EVP, Strategic Accounts. "Pacific Oak's investment in the Crown Pointe beehives as an amenity program offers tenants a point of engagement focused on environmental stewardship."
The Bee Downtown Atlanta corridor is comprised of nearly 40 miles of healthy hives spanning from Fayetteville, Georgia to the program's newest and most Northeastern partner located in Atlanta, Crown Pointe. In just two years, Bee Downtown has placed hives on more than 15 locations. The bees at each location forage in a radius of up to three miles on average, positively impacting more than 18,000 acres. As more and more companies join the Bee Downtown initiative, the three-mile radius the bees from each hive fly begin to overlap, creating a connected corridor throughout the city. Since the hives are all maintained through the same expert management process, they act as a valuable control group for assessing environmental health in the cities where they are found.
"I was very happy to welcome the new hives at Crown Pointe to the growing network of hives in Dunwoody and even happier to learn that they are close enough to interact with the bees at the Dunwoody Nature Center," says Michael Cowan, Executive Director of Dunwoody Nature Center. "It is great to see a local business so supportive of our efforts to maintain a healthy pollinator population. While I know all office and corporate campuses don't have the room to host bee hives, we hope they will all consider planting native pollinator-friendly plants and refrain from using harmful pesticides that end up killing so many helpful pollinators. I'm looking forward to a picnic in the Spring here in the beautiful garden at Crown Pointe!"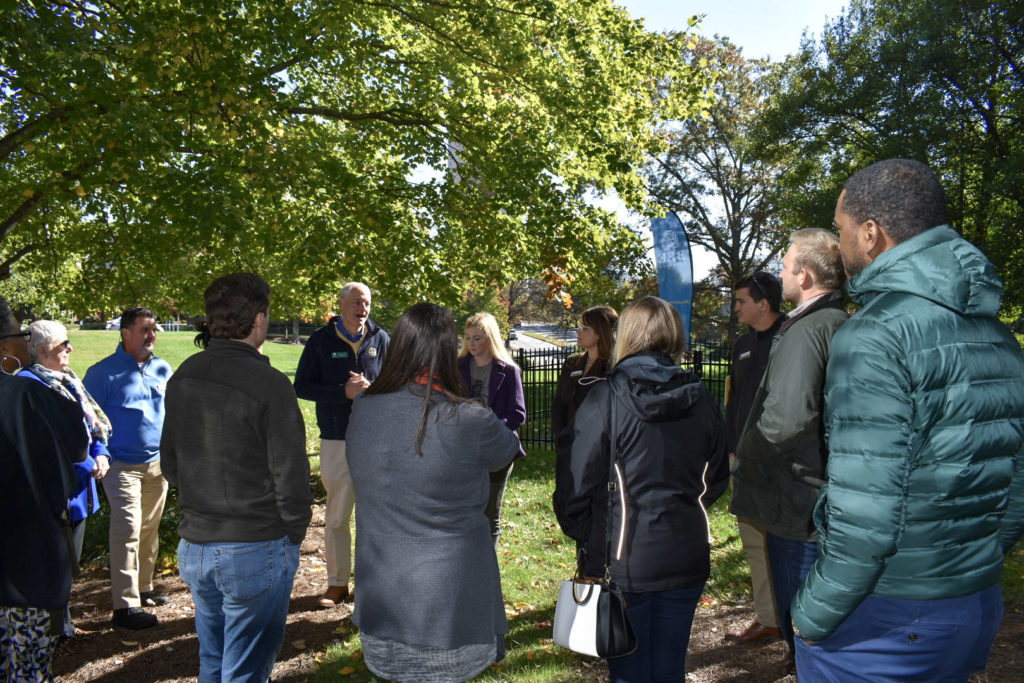 More about Bee Downtown.
Bee Downtown, a 2019 Forbes 30 Under 30 and 2018 Inc. Magazine 30 Under 30 company, installs and maintains beehives on corporate campuses across the South East to help rebuild healthy honeybee populations, while simultaneously providing year-round employee engagement and leadership development programs for their employees. The "buzzing" startup's sustainable model paired with its one-of-a-kind corporate leadership development programming has landed them partnerships with companies like Cox Enterprises, AT&T, Chick-Fil-A, Delta Air Lines, Georgia Power, SAS, Burt's Bees, ParmerRTP and more. In addition to its corporate hive program, Bee Downtown has just launched a biomimicry based corporate leadership development institute for forward-thinking companies as part of its BDT Leadership Institute. For more information about the BDT Institute, visit https://www.bdtinstitute.com/ . To join the Bee Team with Bee Downtown, visit https://www.bee-downtown.com/contact .
About Madison Marquette
Madison Marquette is a leading private real estate investment manager, service provider, developer and operator headquartered in Washington, D.C. As a full-service real estate provider, the company delivers integrated investment, development, leasing and management services to a diverse portfolio of 330 assets in 20 states and manages an investment portfolio valued at over $6 billion. The company partners with global, institutional and private investors to provide industry-leading investment and advisory services across asset classes -- including mixed-use, retail, office, medical, industrial, senior living and multi-family. Following its 2019 merger with the Boston-based Roseview Group, Madison Marquette added capital markets, investment banking and corporate advisory services to its integrated capabilities. Founded in 1992, the company built its reputation on the successful development, repositioning and redevelopment of landmark mixed-use assets, and now leverages that performance legacy to provide clients with exceptional asset services and investment advice. Madison Marquette has over 620 professionals providing nationwide service from 14 regional markets and is a member of the Capital Guidance group of companies.