About 18 months after acquiring Marathon Oil Tower, Houston-based M-M Properties has announced major renovation plans to reposition the property before its 
eponymous tenant moves out
.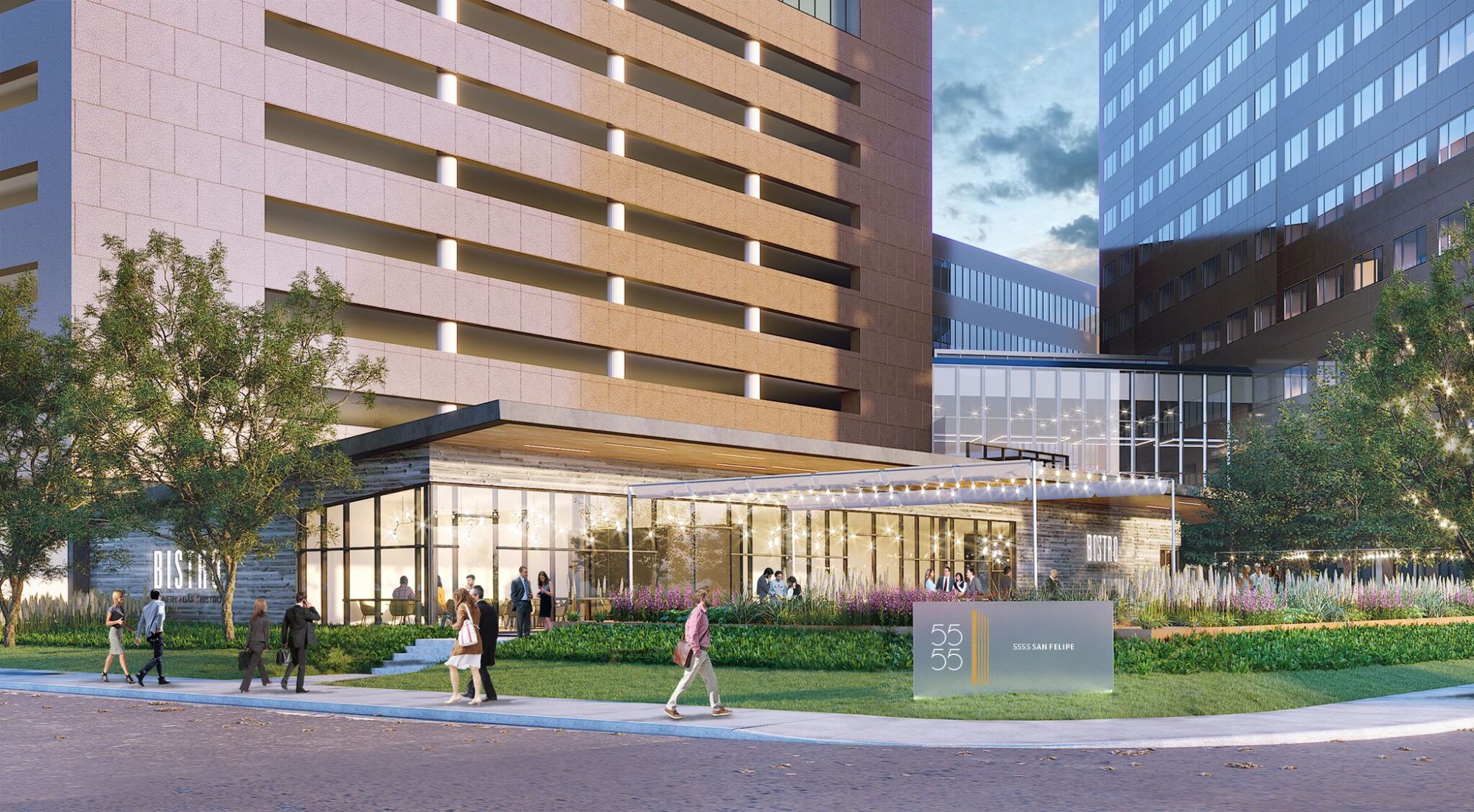 Renovations to the nearly 1.2 million-square-foot, 41-story tower, at 5555 San Felipe St., are expected to begin imminently, according to a press release. The project includes "three levels of new and enhanced amenities, as well as a transformed arrival experience and courtyard," the release states.
Architecture firm Page, which has had a Houston office since 1973, designed the renovations.
The project will incorporate several popular amenities, such as a chef-driven restaurant with an outdoor space, a new food hall-style cafe and a hospitality-inspired, two-story lobby, per the release. Common areas will include collaborative seating, coworking space, Wi-Fi and a media wall designed by technology provider Cyviz, a tenant in the building. There will also be "a spa-styled fitness center" offering group activities, per the release.
"The renovation addresses evolving tenant expectations for amenities suited to the social nature of today's workforce," Ken Moczulski, CEO of M-M Properties, said in the release. "Creative employers require environments that strike a balance between workspace and hospitality."
One of the tower's strengths is its location on the western periphery of the Galleria area, John Spafford, executive vice president and director of leasing in Houston for Madison Marquette, noted in the release. Spafford and Madeline Gregory, also of Madison Marquette, are handling the building's leasing.
"The building is perfectly positioned for access to Uptown's business and amenity base but removed from the traffic of Galleria's most congested corridors: Post Oak and Westheimer," Spafford said in the release. "Its location in the softer, greener and safer area of the submarket is most accessible to Houston's best residential neighborhoods and talent centers."
M-M Properties and Boston-based The Baupost Group bought the building in January 2018 from CBRE Global Investors, an affiliate of New York-based CBRE Group Inc. (NYSE: CBG). Individuals involved in the deal confirmed at the time that the new owners paid $175 million. The Harris County Appraisal District currently values the nearly 1.18 million-square-foot tower and its 581,329-square-foot parking garage at $142.18 million and the property's 4.85 acres of land at nearly $52.82 million.
The tower originally was built in 1983 as the headquarters for Houston-based Marathon Oil Corp. (NYSE: MRO), which plans to move to CityCentre in west Houston. As of early 2018, Marathon occupied around 744,000 square feet in its current tower — but its lease is set to expire in 2021. Marathon's future home is expected to be a newly constructed building at Interstate 10 and Beltway 8.