Lorraine Mirabella, Contact Reporter
The Baltimore Sun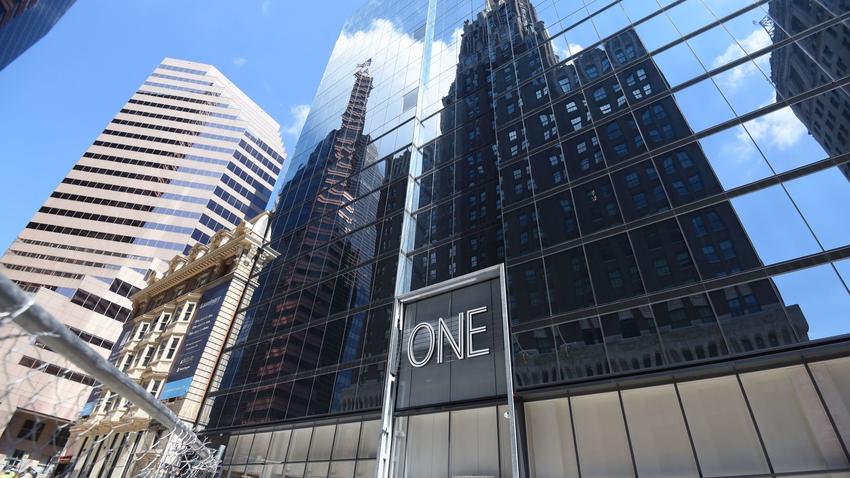 When M&T Bank moves 600 workers into its new Mid-Atlantic headquarters in downtown Baltimore this month, the bank intends to make a statement about its connection to the city through its new central location and office design.
The bank will anchor One Light Street, the first ground-up office tower built in the business core north of Lombard Street since the early 1990s. M&T hopes a modern, collaborative-style workplace will help attract talent and allow bankers to be more responsive to clients.
"It's no exaggeration that the decision by M&T to move to One Light is one of the most important corporate decisions made in downtown over the last 15 years," said Kirby Fowler, president of the Downtown Partnership. "M&T's decision to move to a vacant site required a lot of vision and inspiration. They had to imagine what could go in that site as opposed to moving to an existing building."
Since work began two years ago, project planners have turned to its business customers and longtime Baltimore-area firms to help design, furnish and construct six floors in the 28-story glass building. M&T's logo will be displayed atop the office and apartment building, as it has been on nearby Ravens stadium.
"We think our employees are going to love it," said Augie Chiasera, M&T's greater Baltimore region president.
The bank's "investment in the central business district" of Baltimore demonstrates the company's commitment "to this region and this market," Chiasera added.
The bank is moving from its current headquarters at 25 South Charles Street and 111 Calvert Street to the new tower, which will also house its bank branch. The building has been under construction since late 2016 on the former site of the Southern Hotel. The 14-story hotel closed in 1964 after nearly five decades. The building was razed in 2000 to make way for an office and hotel project that was never built. The site then became a parking lot.
Over the past 15 years, more than 60 buildings in downtown's core have been refurbished for offices, but no new large office space has been built, Fowler said. New office construction instead shifted closer to the Inner Harbor and new waterfront developments east of downtown such as Harbor East and Harbor Point.
Fowler envisions hundreds of office workers bringing new energy to a part of downtown that has seen brisk activity in hotel and residential redevelopment, and believes M&T's presence will help confirm the district as the center of the city's office market.
M&T, which signed a 15-year lease with two five-year extensions, wanted a light-filled, open space with opportunities for employees to collaborate across various divisions, Chiasera said.
"There should be more opportunities for bankers to collaborate with each other to solve problems and issues for their clients," he said.
The layout on floors 12 through 16 includes cubicles, offices of varying sizes and pantry-break rooms. A board room, dining rooms and a commercial kitchen occupy the 17th-floor executive space. The new tower, developed by Washington-based Madison Marquette and still under construction, has nine floors of office space, 5,000 square feet of retail, 280 luxury apartments and a 646-space garage.
M&T aimed to fill its 155,000 square feet with Baltimore-centric touches. Outside the building, Gable, a Baltimore-based signage company that also creates digital displays and LED lighting systems, built the exterior signs.
Inside, 9-foot-high photo murals depicting iconic Baltimore scenes will be displayed in lobbies on each floor. Jennifer Hughes, a Maryland Institute College of Art graduate, captured images of 15 city locations, including the B&O Railroad Museum, Federal Hill, city rowhouses and the Reginald F. Lewis Museum of African American History and Culture.
She said she hopes her murals will spark conversation and help foster a connection to the city.
Price Modern, founded in the city in 1904, provided the office furniture. CallisonRTK, which was formed with a 2015 merger between Baltimore-based RTKL and Seattle-based Callison, created M&T's floor plan and interior design.
"They wanted new, more modern office space," said Kim Jennings, a CallisonRTKL associate vice president. "They have a lot of local relationships with businesses and firms they like to promote, so it's important for them to show that history of their Baltimore connections within their work space. It's a point of pride to share that heritage with staff and clients and guests."
The firm used the Maryland flag colors in pantry and break rooms on each of the six floors, with seating covered in red, black and gold-striped fabric and red, yellow and gold backsplashes.
David Edward, a family-owned maker of high-end seating for offices, hospitals, schools and other commercial spaces, designed custom wood chairs for the executive dining room. The Baltimore-based firm, which runs manufacturing plants in Arbutus and Red Lion, Pa., was founded in 1963 and now run by three sons of the founder. M&T ordered about five dozen chairs from the furniture maker.
In recent years, commercial customers such as M&T have looked for less formal furniture that provides a more relaxed feel, said Kevin Pitts, vice president of sales who runs David Edward with his brothers.
"So many people spend so much time at work," Pitts said. Employers "want people to be welcome."
M&T began looking for space in 2014, toward the end of its lease on Charles Street, where it had been located since M&T acquired Allfirst Financial in 2003. M&T will continue to maintain its offices, and another 500 employees, at its operations and processing center at Montgomery Park.
Jennings said M&T's new offices are designed with standardized workspaces as well as shared space, such as the break room pantries and small meeting rooms for those without private offices. Its floor-to-ceiling windows and glass-front offices were designed to maximize views of the city and harbor for all employees.
The idea is to give employees more options for space to work, Jennings said, so they can "get up from desks and work in different environments."