Houston's most iconic landmark building is being renamed for its lead tenant
HOUSTON, October 15, 2019 – M-M Properties, a Houston-based privately held commercial real estate investment firm, today announced TC Energy Center as the new name for 700 Louisiana Street, formerly known as Bank of America Center. The 56-story Class A office building was originally designed by noted architect Philip Johnson and has defined the Downtown Houston skyline since its completion in 1983.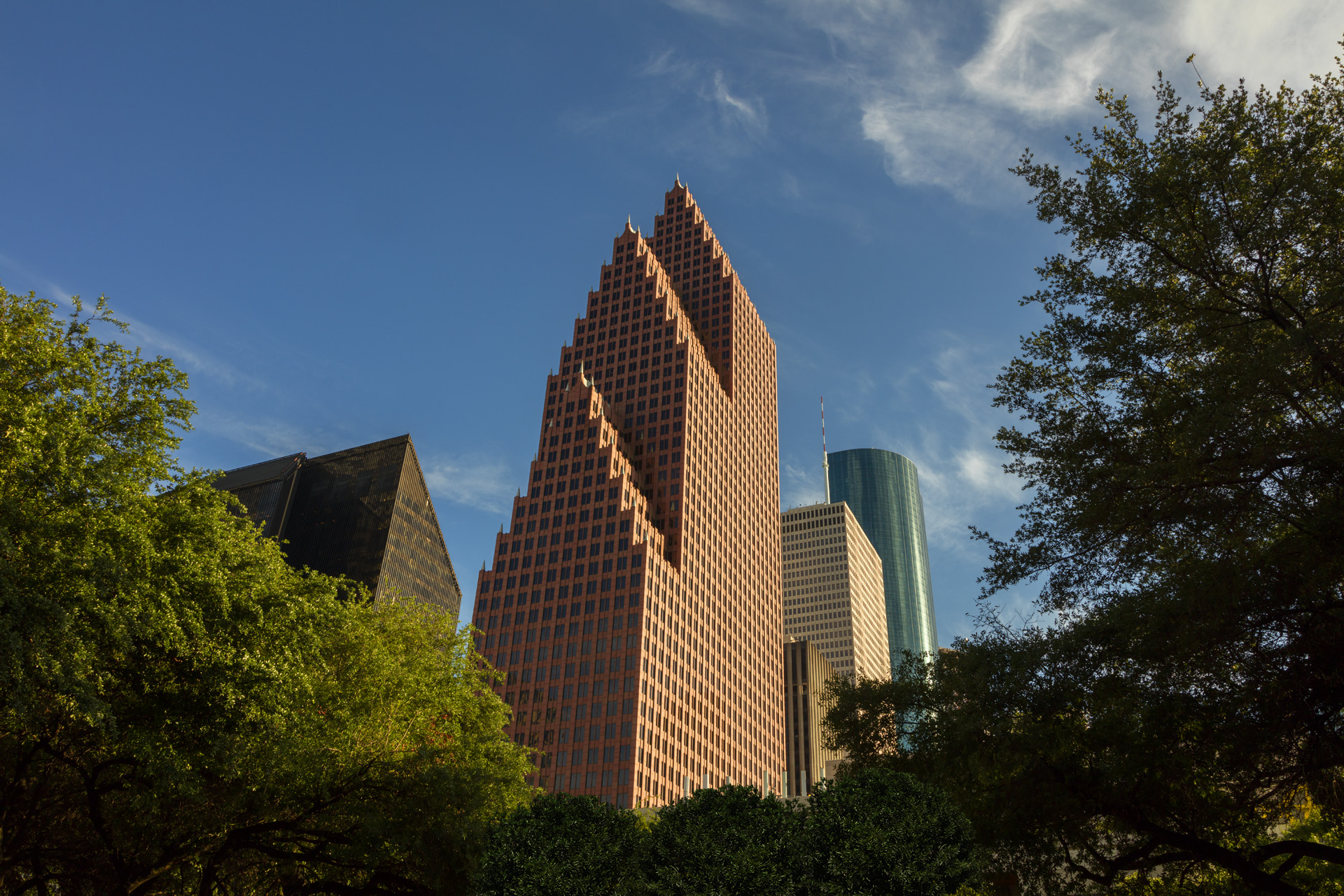 TC Energy, one of the continent's largest providers of energy infrastructure including natural gas and oil pipelines, power generation and gas storage facilities, first occupied space in the building in mid-2013, and with a recent expansion now leases just over 300,000 square feet. Bank of America, the building's former namesake tenant, recently vacated approximately 168,000 square feet when they relocated to Bank of America Tower earlier this year.
"The TC Energy Center, our U.S. headquarters, is a testament to the growth of our people and our operations in Houston and across the country. As our business grows, so do our resource needs. We are over 8,000 strong, with over 1,000 in Houston and continue to seek out bright, talented individuals to join our diverse and inclusive team – a team that is actively involved in giving back to this city and making a positive impact in society," said Stan Chapman, Executive Vice-President and President, U.S. Natural Gas Pipelines.
Recognized by Business Insider as the state's most beautiful building, 1.25 million square foot office tower is undergoing phase I of a $20 million renovation which will add an 8,000-square-foot white-tablecloth dining establishment on the Northwest corner of the lobby, and 10,000 square feet of creative office space featuring views onto Jones Plaza. Phase II of the project will include a new tenant lounge and conference center, a lobby coffee bar and new mezzanine level collaborative workspaces under the dramatic cathedral ceilings.
John Spafford and Madeline Gregory of Madison Marquette handle leasing for the property. "When we first put together a plan for TC Energy to relocate to the building we were able to demonstrate a path for growth that met the goals of both the tenant and ownership. It is extremely gratifying to see the plan come to its full realization" says Spafford.
About M-M Properties
M-M Properties is a privately held real estate investment firm that seeks to provide exceptional risk-adjusted returns to its investors through superior execution of carefully developed strategies. Its senior management team has worked together for tenures ranging from 7 to 17 years through several firms. Leadership has deep experience throughout real estate market cycles and multiple project phases including acquisition, disposition, recapitalization, development, investment and property management across a broad range of property types and within all major U.S. markets.  The company or its principals have engaged in real estate investment activities on behalf of investors, partners or for its own account across a portfolio of assets that has included over 29 million square feet of office projects and almost 17,000 multifamily units with a cumulative transaction volume of approximately $8.5 billion. For additional information, visit:  www.mmprop.com
About Madison Marquette
Madison Marquette is a leading private real estate investment manager, service provider, developer and operator headquartered in Washington, D.C. As a full-service real estate provider, the company delivers integrated investment, development, leasing and management services to a diverse portfolio of 330 assets in 20 states and manages an investment portfolio valued at over $6 billion. The company partners with global, institutional and private investors to provide industry-leading investment and advisory services across asset classes -- including mixed-use, retail, office, medical, industrial, senior living and multi-family. Following its 2019 merger with the Boston-based Roseview Group, Madison Marquette added capital markets, investment banking and corporate advisory services to its integrated capabilities. Founded in 1992, the company built its reputation on the successful development, repositioning and redevelopment of landmark mixed-use assets, and now leverages that performance legacy to provide clients with exceptional asset services and investment advice. Madison Marquette has over 620 professionals providing nationwide service from 14 regional markets and is a member of the Capital Guidance group of companies.
About TC Energy
TC Energy and its affiliates deliver the energy millions of people rely on every day to power their lives and fuel industry. Focused on what we do and how we do it, we are guided by core values of safety, responsibility, collaboration and integrity. Our more than 7,000 people are committed to sustainably developing and operating pipeline, power generation and energy storage facilities across Canada, the U.S. and Mexico. TC Energy's common shares trade on the Toronto (TSX) and New York (NYSE) stock exchanges under the symbol TRP. Visit TCEnergy.com and connect with us on social media to learn more.
Media Contact:
Whitney Williams
713.209.5935
[email protected]