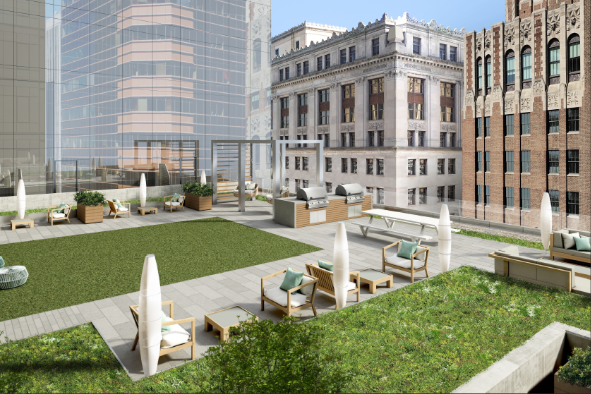 The first tenants for the 280 apartment units at One Light Street will move into the 28-story tower in March.
The residential portion of the sleek and modern development is still under construction at Light and Redwood streets. A tour Friday of the skeletons of the units and amenity level showed off what will soon be sweeping views of downtown from all angles, and unique open space high above the city's streets, including a dog park with vistas that rival any waterfront landscape.
The office portion at One Light Street first opened last month with 600 M&T Bank employees moving into 155,000 square feet of high-tech space on six floors.
n the meantime, dozens of construction workers have continued to build out 10 upper floors to create the luxury apartment units.
Public tours are expected to begin early next year with pre-leasing to start in January. The monthly rental rates were still being set, said Adrian Donnelly, senior construction manager for Madison Marquette, the developer at One Light.
Donnelly showed off the development's amenity floor on the 28th level that will soon hold a gym, yoga studio and a large common space with indoor and outdoor kitchens and room to relax. Nearby, the outdoor dog park is framed by six-foot glass windows that will shield it from winds yet allow skyline views alongside parts of M&T's 10-foot logo. Nearby, an outdoor pool and sun deck will also showcase downtown.
The apartments will be studio, junior one bedroom, one-bedroom and two-bedroom sizes, Donnelly said, adding that the 27th floor will be marketed as a penthouse with upgraded finishes and appliances.
Residents will get their own entrance through a modern lobby off Redwood Street.
Workers enter through a lobby on Light Street where the design is already set: Ultra modern and Zen-like with no furniture to compliment its granite walls. A large rectangular rock garden is the only decor.
Besides M&T Bank, the 780,941-square-foot development still has 80,000 square feet of office space available as well as restaurant and retail space on street level, Donnelly said. A parking garage with 646 spaces opened in August.