Hoffman-Madison Waterfront has landed an $847 million construction loan for the second phase of The Wharf, the $2.5 billion mixed-use development on D.C.'s southwest waterfront with an A-list roster of lenders on board.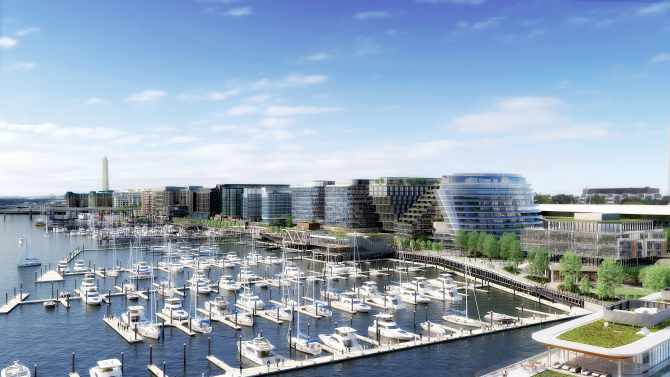 A syndicate led by New York-based Goldman Sachs Inc. (NYSE: GS) closed Thursday on the loan to Hoffman-Madison. The syndicate also includes Starwood Capital Group, Mack Real Estate Group and the Pentagon Federal Credit Union. The deal was brokered by Eastdil Secured, which estimates it was the largest private construction loan in the city's history. The second-largest is believed to have been the nearly $400 million loan for the CityCenterDC mixed-use development.
Hoffman & Associates Founder and CEO Monty Hoffman, in an interview, credited the ability to secure a loan of that size from an internationally known lender to the success of The Wharf's first phase and momentum his team has built for the second.
"The market reception for The Wharf community has been phenomenal," Hoffman said. "Having Williams & Connolly as a lead tenant and the Pendry hotel and having several others in the queue right now on lease-up going into phase two gave tremendous credibility to the project."
Hoffman, formerly known as PN Hoffman, is co-developing the project with Madison Marquette and joint venture partner Public Sector Pension Investment Board, or PSP Investments, the Canadian Crown corporation that provided critical financial support for the project's first phase.
The construction loan is in addition to an $800 million loan Hoffman-Madison locked in earlier this year to refinance the project's first phase and partially fuel the second. That loan, also brokered by Eastdil Secured, came from a Wells Fargo-led syndicate that included Morgan Stanley and Blackstone.
For the more recent construction loan, Hoffman said, the Goldman Sachs-led team emerged from a shortlist of three. That the project is now able to command interest from such lenders shows just how far it has come from the depths of the recession, when Hoffman struggled to raise additional equity after losing its first partner, Baltimore-based Struever Bros. Eccles & Rouse.
"Certainly the differences couldn't be more stark," Hoffman said. "In the earlier stages, we were still coming out of the recession and The Wharf, then called Southwest Waterfront — getting everyone to look at it differently was a huge challenge on all levels. Everybody was skeptical and I understand that. That's natural."
Hoffman-Madison has been working on landing a construction loan for the project's second phase for the past nine months, even while details and project costs were still being refined. The team started construction on phase two in March, up against a strict schedule to deliver space to its pre-leased tenants, law firm Williams & Connolly LLP among them, on time.
That schedule has Hoffman-Madison bottoming out at the site, to a depth of 36 feet at its lowest for three levels of parking, in a month or so. It will then start pouring concrete for the pads that will support the project's tower cranes.
"Everything is prescriptive, expected delivery time for those firms. It's a very complex draw schedule of cash flow needed to achieve these milestones," Hoffman said. "So we put financing on our schedule, just like earth work and everything else. So we're right on schedule."